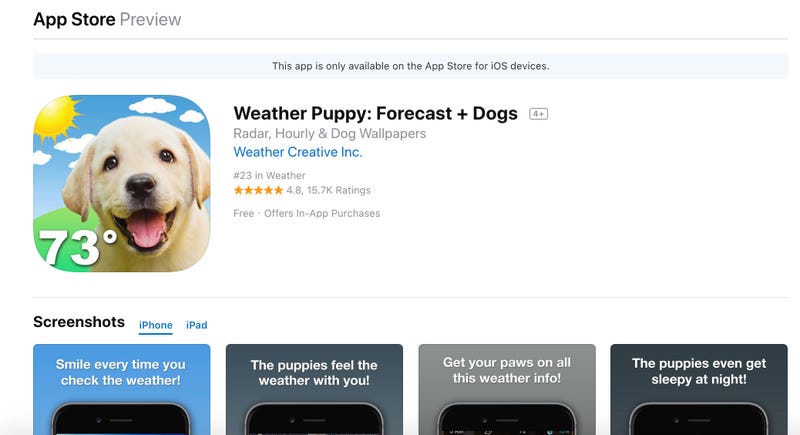 And here are some user reviews.
Almost Perfect

★★★★★ - lexie3030

After years of tolerating the Weather Channel app because others I tried didn't work for me either, I discovered Weather Puppy. I gave it 5 stars despite saying "Almost Perfect" because the two things I would like to see are minor. These are a pollen report and extending the hourly forecast, I have have always found this app to be accurate.
Deceptive Advertising!!!

★ - MTLAR

I really wanted this APP because I wanted Labrador dogs. This APP promises "NO ADS" if you make IN-APP purchase. I did this and I still see the initial page with advertisements for "Humane Societies". This can be in the credits under info—not something you have to look at everytime you open the app. They are charging you to have an ads free app and this is not ads free!!!They are not cooperating to resolve the issue. They are saying I have to have a "Black Screen" or these ads while the app is downloading. They can have a photo of a dog or flower. They are saying they are a two person company and I am the only one who complained and the excuses to on and on.
4 0ut of 5

★★★★-xufxkg d

I would give this app 4 out of 5.
Perfect

★★★★★-Squid321

When I get up in the morning to go to school I always check Weather pup to see if it will rain when it will rain and the percentage I can also see if it will be sunny cloudy or partly cloudy
Love the Dogs!!!

★★★★★-Shih Tzu Lover0907

I lost my dog 2 years ago and love seeing the different dogs on your app. Weather is very accurate and like sending the screenshots to my daughter and grandkids to compare our weather...they are in AZ.
Holiday pups

★-Upset in milw

I expected more pictures of pups in more festive surroundings. Not good enough for the money, should be a better quality. People love their pets!
Puppy in magic world

★★★★★ - secretstop

Magic magic puppy goes into your world playground in rainbows Connie Tanky clouds made out of cotton candy and a lot of sunshine everybody tries to go with the magic happens to the mermaid so she can lock in the attic and password so she told her friend but didn't take it I like your friend she is not happy that she's wrong stop her from going so she talk to the manager the date was the program only like one person but she fix something because the squirrel is eating so she plugged it in and her friends did it exactly like she's making slime in a palm tree she is drinking the coconut and eating some popcorn and Popsicles and frozen up for it