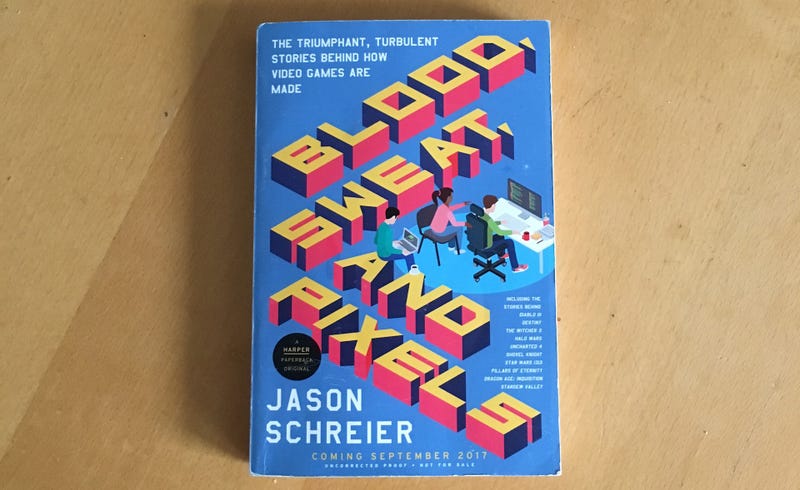 Jets fan and Splatoon 2 enthusiast Jason Schreier has a book out next week. It's called "Blood, Sweat, And Pixels," and it's about video game development. He was gracious enough to provide the editors of patrickredford.kinja.com with a review copy.
Physical Specs
The book weighs exactly 275.2 grams, although this may be slightly inflated due to minor water damage my copy took on when I spilled a bunch of water on it (an incident which we don't need to revisit). It is 7-15/16" tall, 5-9/16" wide, and 1" thick. There are 278 pages, not including the intro and outro sections. It would not be a very effective melee weapon, but it would fit well in your backpack or tote bag.
Cover Design
The cover truly "pops" and makes one want to jump around from letter to letter Mario style, or like 3D print out the letters and use them as erasers or something. No easter eggs to be found on that coder's screen; those are just lines.
The Best Three Chapters
In the order that they appear in the book: Stardew Valley, Diablo III, Star Wars 1313.
A Fake Review Card I Made For The Book
Here ya go.
A Question Regarding A Non-Typo On Page 96
No, I'm just a dumbass.
The Best Character
The Stardew Valley guy's girlfriend, who deserves a medal.
Should You Buy This Book
Yeah, it's good!